The Mammogram tab provides:
Mammogram Last Recorded
A pie chart displays the % of patients with a Mammogram Last Recorded in the following categories:
0-2 years, >2-3 years, >3-4 years,> 4 years, Not Recorded, Ineligible*.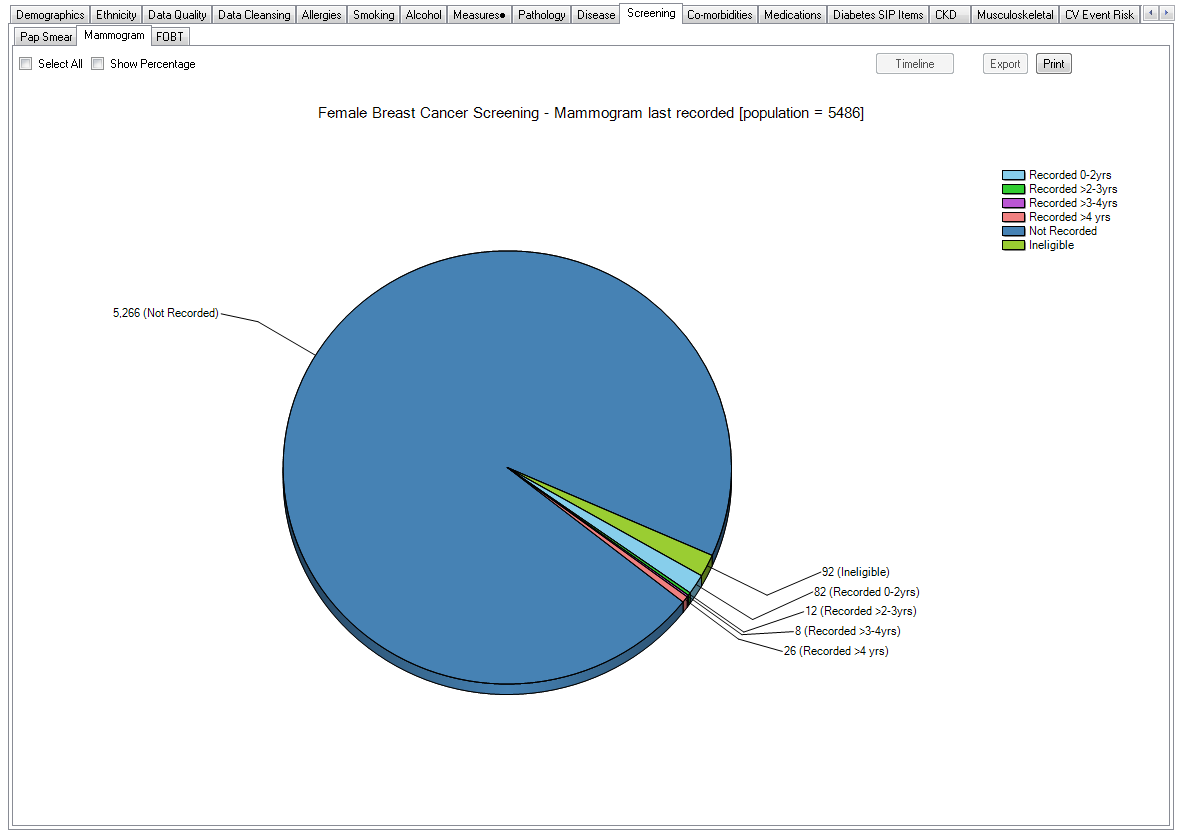 Mammograms for this graph are retrieved from electronic results or manual entry of the correct test name on the results/investigation screen of your clinical system.
Electronic results are sent to GPs who have patients screened at BreastScreen Victoria Clinics since October 2011 and it is hoped other States will follow with this functionality.
* The Mammogram category of 'Ineligible' includes patients that are no longer required to have a Mammogram because they have a coded condition that implies exclusion.
Mammogram Exclusions
Adenocarcinoma - Breast                                    
Breast cancer
Breast carcinoma
Breast carcinosarcoma
Breast removal
Carcinoma - Breast
Carcinosarcoma of the breast
Mastectomy
Mastectomy - partial & node biopsy

Radical mastectomy
Radical mastectomy
Signet ring cell carcinoma of breast
Simple mastectomy
Surgery - Mastectomy
Surgery - Radical mastectomy
Surgery - Radical mastectomy
Surgery - Simple mastectomy
If you are not receiving your results electronically, you will have to enter the test results manually using one of the names specified in the mapping guides. Please check the links below for details. Also please note that CAT4 can't pick up a mammogram test from your conditions or past history list - it has to be a test name!
MD3: General Data Category Mappings MD3