...
Warning
With the release of CAT4 V4.15 the need to configure this functionality has been removed and a clinic will be able to do a manual upload by simply right-clicking on a de-identified extract and select the PAT CAT server they want to upload to. For most clinics only one PAT CAT server will be available, but some clinics are uploading to multiple PAT CAT servers - all will be listed.
The preferred and recommended way to upload the de-identified data is to use the built in 'Send to PATCAT' function in CAT4. To configure the 'Send to' click on the menu option 'Edit' > 'Send Data Extracts Locations'. More than one location can be set up if a practice is submitting data to more than one organisation and different options on how the data is sent can be configured (email, ftp or direct to PATCAT). This guide only covers the 'Send to PATCAT' option. For a full description of all options please see our Clinical Audit Tool User Guide on 'SEND DATA TO' FUNCTION
Select 'Edit' > 'Send Data Extracts Locations' from the menu bar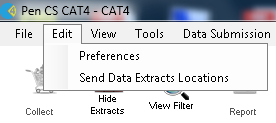 Image Removed
The 'Send Data Extracts Locations' configuration screen will be displayed. Select 'Send to PATCAT' from the drop-down 'Send Data Method' list.
Enter a location name that describes where the data will be sent and click 'Add'. A new location tab will added to the 'Send Data Extracts Locations' window with the location name you have provided.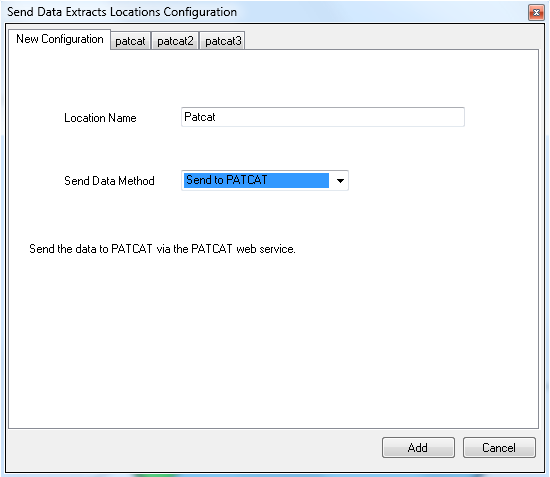 Image Removed
To configure the username and password for the Send to PAT CAT functionality you have to set up the practice in PAT CAT first, which is normally done by the PHN. When a practice is set up in PAT CAT, there is a login and a password field. This is to be used in the configuration below so PAT CAT can correctly import the practice data.
Image Removed
Fill in the mandatory fields – this information has to be provided by your PHN or other organisation as it has been setup in their instance of PAT CAT:
Webservice Address – this will be a different URL for each instance of PAT CAT but will always end with

pcs_uploadservice.asmx

for example

_

https://patcat.yourphn.com.au/pcs_uploadservice.asmx_

Username - practice login from your PAT CAT/Practices screen as shown above




Password - practice password from the PAT CAT/Practices screen as shown above



Image Removed