Clicking on 'Download' will show a dialog which allows to save the data of the current report as either an image, comma delimited data (csv) or as portable document format (pdf). You can choose the folder where the file will be saved in the dialogue window of your browser or you might be prompted to open the file depending on your web browser preferences.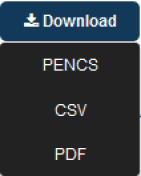 Figure 97: Download Report Data Choices
 
NOTE: If you are logged on as a practice you will be offered to save either the aggregated data graph or your own practice data graph. In the example above only the PHN or other organisation data is available as a graph as we are logged on as an organisation.