Overview
The CAT Childhood Schedule tab provides:
A graph which displays a child's immunisation status
A worksheet which details the number of doses of each immunisation that have been received for each child
The NKPI Essential Immunisations tab shows which children are up to date for the immunisations HepA, DTPa, Hib, IPV and MMR for ages 1,2 and 5 only. It also offers the same worksheet as the general childhood schedule graph.

The CAT Age filter allows filtering by age in months as well as years. This can be used to target specific child age groups and determine children that have not received all their immunisations.
The tables at the end of this guide provide information about:
The immunisations included (Table 1)
The number of doses required by age (Table 2)
The additional rules considered to determine status (Table 3). The rules for each immunisation determine whether it is up to date, due or overdue.

A child's overall status will take the 'worst' status of all immunisations given i.e. if any immunisation is overdue the child's overall status will be overdue.
 
References
The following documents have been referenced:

Graph
The Immunisations > Child Schedule tab provides a pie chart for children aged 0-7 years with the following status categories:
Fully immunised – a child has received all the immunisations required for their age (refer Table 2)
Up to date – a child is not fully immunised but no dose is due (eg. there may be a minimum time period between doses – refer Table 3)
Due – immunisations are due now
Overdue – immunisations are overdue
HepA only Due/Overdue - all immunisations are up to date except HepA
Overdue and Declined - immunisations are overdue but has been declined by the patient/parents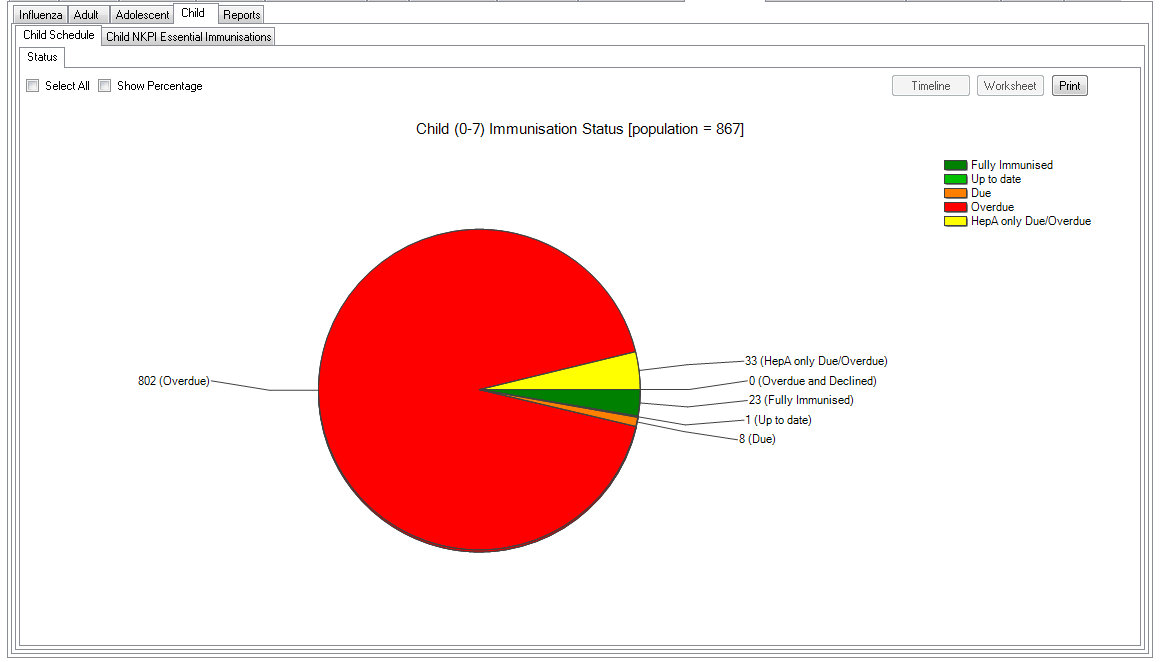 Worksheet
The worksheet button provides a list of patients with the following details:
age in months
immunisation status
number of doses per immunisation
The worksheet is an aid to help the practice to find children who are not up to date and identify which immunisations are still required. As the vaccination pathways for different vaccine brands can differ the practice should check patient records where a child is listed as due or overdue. In the worksheets the overdue immunisation(s) will be displayed with a * next to the current count to assist in identifying the reason for the child being listed as overdue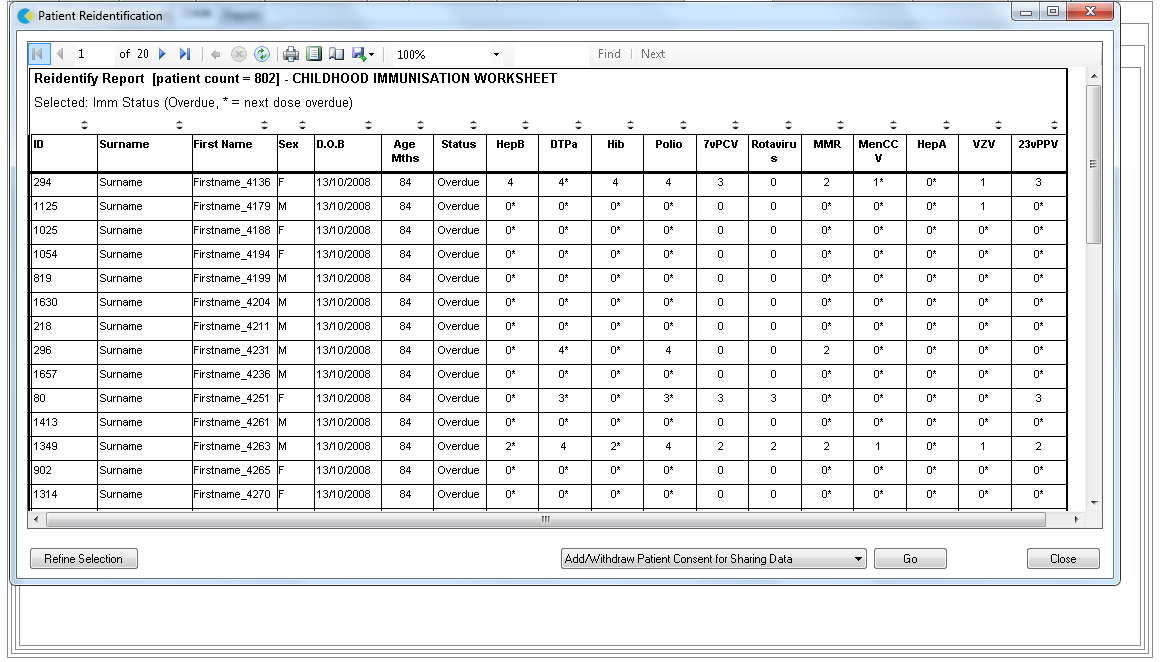 Table 1: Immunisation list for children
| | |
| --- | --- |
| HepB | Hepatitis B |
| DTPa | Diptheria, tetanus and whooping cough (acellular pertrussis) |
| Hib | Haemophilus influenza |
| IPV | Polio (inactivated poliomyelitis) |
| 7vPCV | Pneumococcal conjugate |
| Rotavirus | Rotavirus |
| MMR | Measles, mumps and rebella |
| MenCCV | Meningoccocal C |
| HepA (for ATSI) | Hepatitis A |
| VZV | Chickenpox (varicella) |
| 23vPPV | Pneumucoccal polysaccharide |

Table 2: Immunisation total recommended doses by age
This table shows the recommended doses for age as provided by the National Immunisation Program Schedule.
Immun./
Age mths

0

2

4

6

12

18

24

48

HepB - Birth

1

 

 

 

 

 

 

 

HepB

 

1

2

3

 

 

 

 

DTPa

 

1

2

3

 

4

 

5

Hib

 

1

2

3

4

 

 

 

IPV

 

1

2

3

 

 

 

4

Pneumococcal conjugate

 

1

2

3

 

 

 

 

Rotavirus For children born from 1st May 2007; Number of doses is dependent on brand. - RotaTeq

 

1

2

3

 

 

 

 

- Rotarix

 

1

2

 

 

 

 

 

MMR - DOB < 1/1/2012

 

 

 

 

1

 

 

2

- DOB >= 1/1/2012

 

 

 

 

1

2

 

 

MenCCV

 

 

 

 

1

 

 

 

HepA For Aboriginal and Torres Strait Islander

 

 

 

 

 

 

1 or 2 Two doses of hepatitis A vaccine
are required for Aboriginal and Torres Strait
Islander children living in areas of higher risk
(Queensland, Northern Territory, Western
Australia and South Australia).

 

VZV

 

 

 

 

 

1

 

 

23vPPV

 

 

 

 

 

 

1

 

A child's age in months determines how many doses of each immunisation should have been received. For example, by age 6 months a child should have had 3 doses of DTPa.
The number of doses for age will differ between States and Territories due to the needs of geographic and demographic conditions.
 
Table 3: Immunisation Due and Overdue rules based on 'The Australian Childhood Immunisation Register (ACIR) Due and Overdue rules'
Immunisation

Dose

Additional Criteria to determine if status = Up to date 

** = Fully Immunised*

Status

 

 

 

 

 

Up to date

Due

Overdue

HepB - Birth
- is only valid up to 7 days of age

1

Child age > 7days* 


 

In first 7 days

 

HepB

1

 

 

2 months

3 months

 

2

 

Last dose
given< 2months

4 months

5 months

 

3

 

Last dose
given< 2months

6 months

7 months

DTPa

1

 

 

2 months

3 months

 

2

 

Last dose
given< 2months

4 months

5 months

 

3

 

Last dose
given< 2months

6 months

7 months

 

4

 

Last dose
given< 6months

18 months

19 months

 
5
 

Last dose




given< 6months

 

48 months

49 months

Hib

1

Dose 1 > 15months

 

2 months

3 months

 

2

Dose 2 > 15months

Last dose
given< 2months

4 months

5 months

 

3

Dose 3 >15months

Last dose
given< 2months

6 months

7 months

 

4

 

Last dose
given< 2months

12 months

13 months

IPV

1

 

 

2 months

3 months

 

2

 

Last dose
given< 2months

4 months

5 months

 

3

Dose 3 > 48months

Last dose
given< 2months

6 months

7 months

 

4

 

Last dose
given< 6months

48 months

49 months
Pneumococcal conjugate             


1       


Dose 1 > 17months

 

2 months       


3 months

 

2

Dose 2 > 12months

Last dose
given< 2months 


4 months

5 months

 

3

 

Last dose
given< 2months

6 months

7 months

Rotavirus

 

If no dose by 14weeks then no doses due/overdue

 

 

 

 

1

Dose 1 > 28weeks

 

2 months

3 months

 

2

Dose 2 > 28weeks

 

4 months

5 months

 

3

No doses due/overdue > 32weeks

 

6 months

7 months

MMR - DOB < 1/1/2012

1

 

 

12 months

13 months

 

2

 

 

48 months

49 months

MMR - DOB >= 1/1/2012

1

 

 

12 months

13 months

 

2

 

 

18 months

19 months

MenCCV

1

Imm can be given in more than 1 dose – a dose must exist

after 12months*

 

12 months

13 months

HepA
(For Aboriginal and Torres

Strait Islander)

1

2 doses are due in the second year of life*

 

12 months

25 months

2nd dose for high risk areas

2

 

 

18 months

25 months

VZV

1

 

 

18 months

19 months

23vPPV

1

 

 

18 months

19 months