This report shows the influenza vaccination status by NIP recommendations and status in three bars:
Strongly recommended and NIP covered
Strongly recommended but not covered
Recommended but not covered
The bars show the status of all patients in that category, using the following colours: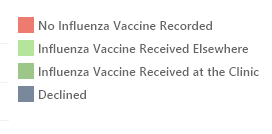 Currently only Medical Director has a 'declined' option, so only those users will be able to see who has declined the vaccine. If a patient declines in one visit but changes their mind, they will be report with their new status.
The groups are based on the eligibility criteria and recommendations in the Australian Immunisation Handbook and have been updated in March 2021. 
While we have mapped a very large number of conditions to identify all at risk patients, due to time constraints and inconsistencies between the different clinical systems, some conditions could not be included. Please exercise your discretion as clinicians to ensure that all patients who are at risk are included in the vaccine allocation, as Pen CS can only provide a report that shows potentially at risk patients to the best of our ability. Any feedback is very much appreciated!