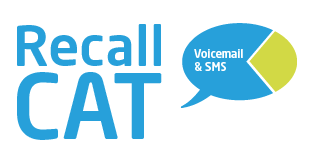 Recall CAT is Pen CS' answer to efficient and effective patient recalls. Delivered through CAT4, practices can send either an SMS or Voicemail message in bulk to their patients.
By utilising CAT4's extensive search capabilities, practices can engage with their patients for a multitude of reasons such as preventive health initiatives, chronic disease management, due or overdue health checks, immunisations and General Practice financial opportunities.
Check our our video about Recall CAT here: Recall CAT video (9 minutes)

Recall CAT provides practices with a unique voicemail option. A doctor can record a one time voicemail recording "This is Doctor John Smith from the Pen CS Medical Clinic. Our records indicate that you are now due for your next health check. Can you please contact our receptionist on 1800 123 456 to book an appointment?". That recording can be used time and time again. Recall CAT will then automatically leave a voice message in the patients voicemail inbox. This gives the appearance that the Doctor tried to call them personally. Multiple messages can be recorded and are stored for future use. Adding new messages is easy and no additional equipment is required, your phone is enough.