The revised Respiratory filter (CAT4 version 4.7.2) provides backwards compatibility with the earlier CAT4 versions whilst aligning with the new Asthma and COPD medication guidelines available at the National Asthma Council of Australia.
Asthma & COPD Medications Chart 2018 (pdf)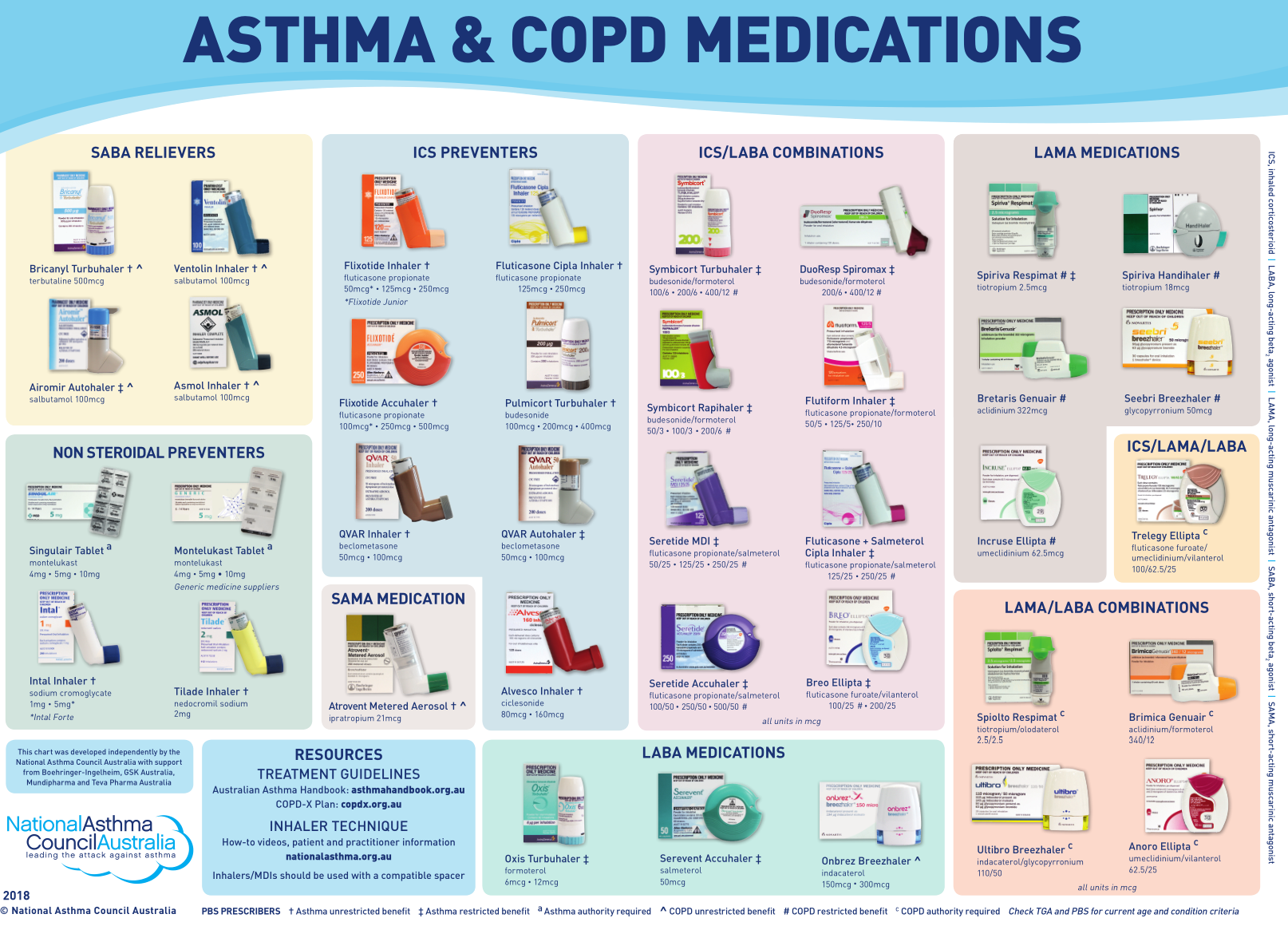 The new guidelines:
Categorise medications as SABA, SAMA, LABA, LAMA, Preventers and Combinations.
Indicate which medications are for use with Asthma, COPD or both.
Include Relievers for use in COPD. 
Relievers

SABA

Asthma or COPD

SAMA

Asthma or COPD

Symptom Controllers

LABA

Salmeteral or Formoterol

Indacterol

 

Asthma

COPD

Management

LAMA

COPD

Preventers

ICS and Non Steroidal

Asthma

Combination

ICS/LABA

Asthma

LAMA/LABA

COPD

ICS/LAMA/LABA
COPD
LABA Long Acting Beta Agonist | LAMA Long Acting Muscarinic Antagonist | SABA Short Acting Beta Agonist | SAMA Short Acting Muscarinic Antagonist
CAT continues to group the medications under Antiasthmatic and COPD to support existing CAT functionality that allows for searches by condition category. As the Relievers can now also be used in COPD, an additional option under COPD allows for these to be included in a COPD medication search. While there is some duplication in this filter (for example the inhaled steroid option is duplicated under the "Antiasthmatic" section this allows for more options in filtering and for backward compatibility.


If you load older data extracts, the filter will be limited to the 'Management Tiotropium (LAMA) category, as we previously didn't collect the other drugs for COPD.

The "Long Acting" filter category allows to filter for any LABA (Antiasthmatic OR COPD) while the LAMA option is mainly for backward compatibility.